Gay Vancouver Event and Nightclub Listings 
** CLICK Posters for more INFO! **
---
Double Trouble w/ Berlin and Gluttony
Tuesday April 23, 2019 9pm–12am, Show 10pm
1181, 1181 Davie St.

Double Trouble is a show that aims to create a sense of community in a relaxed setting, with an emphasis on bringing fun back to drag. Longtime VAL Angels, Berlin and Gluttony (Jesse Harink) make their debut how. Imagine sex and funny, Dorothy and Blanche, Cher and Tai or Cady and Regina. Each Tuesday night, they come together to create a safe, inviting place that feels like you're just at home with your best Judy's. $4 Happy Hour Specials from 10PM-11PM,. NO COVER
---
OUT AGAIN AT THE INN
April 24-27, 2019 8pm
HAVANA THEATRE, 1212 Commercial Drive, Vancouver

Mary and Marie continue to have their hands full, running their struggling bed and breakfast, while hosting the Blackberry Cove jam-making contest, with no help from their chronically high neighbours. And then, their least favourite guest decides this is her weekend to come out. What could go wrong? Tickets $20 ONLINE
---
Splendor in Space: A Drag Odyssey
Thursday April 25, 2019 7:30pm–9pm
H.R. MacMillan Space Centre, 1100 Chestnut St.

Join us for an all ages drag performance with music and astronomy under the dome in the planetarium star theatre! Local drag performers Shanda Leer, Dust and Rose Butch will take us on a journey through time and space. We will explore how the 1960's space race changed not only humanity and pop culture, but also drag and queer culture. TICKETS: $15 early bird tickets until April 11th, $20 after. ONLINE
---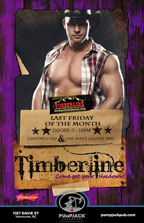 TIMBERLINE
Friday April 26, 2019 7 to 10 pm
Pumpjack Pub, 1167 Davie St.

Gay / Lesbian / queer line dancing, barn dancing and two stepping. Find us on the dance floor by going through the bar to the back and turn right, or head right after going in the door. Last Friday of Each Month! Lessons start at 8pm & no cover.
---
DIVA'S
Friday April 26, 2019 Showtime 10:45pm 
The Junction, 1138 Davie St.

The Junction Presents: DIVA'S with host Sienna Blaze! Special Guests will be joining Sienna on stage!! DJ Drew plays your favorite all night long! This show brings you the best of Vancouver's Drag Scene and you know that you won't be disappointed! Cover $5.00
---
Man Up: D!VAS
Saturday April 27, 2019 9pm–2am
Warehouse at Eastside Studios, 550 Malkin Avenue, Vancouver

This month, we're reaching deep within our queer souls and mustering the absolute POWER and PRESENCE of some of the top diva icons in pop history! If you've ever witnessed a Man Up tribute show (Fallen Icons 2016, Freddie Mercury 2015/18, or Femme Impersonations 2017) you know you're in for a truly memorable drag treat. Cover $10 before 10pm, $15 after
---
Backdoor Spring Fling! Last Event at the VAL Lab!
Saturday April 27, 2019 10pm–5am
Vancouver Art and Leisure at the Lab, 101 West 6th Avenue

Pride is coming and we have the perfect hot rave to help you shed that winter baggage and let loose a little ;) This is the final event, at the lab (our little warehouse we have thrown parties at for the last year) before we launch our next space! Tickets $28.63 ONLINE
---
D!ck Safari: Amateur Strip
Monday April 29, 2019 Show at 12:30am
The Junction, 1138 Davie St.

Hosted by The king of D!cks: Del Stamp & The Queen of D!cks: LMA Bitches w/ supprt from Rob Feller. Do you want to win some money? Cash prizes available for 1st & 2nd + Give aways from Steamworks. Are you courageous enough to bare it all? Cover $5 after 11pm.
---
Bingo Palooza starring Carlotta Gurl!
Saturday May 4, 2019 6pm–10pm
Russian Hall, 600 Campbell Avenue, Vancouver
It is going to be a crazy night of Bingo and Drag Queen entertainment! Carlotta Gurl will be your MC while you bingo all night for a great cause! Bring your daubers/ highlighters, good luck charms and your friends. Eat, drink, play and WIN! There are many, many chances to win. Note: this is a CASH ONLY event. All tickets are sold online only. All proceeds will go directly to "To Van With Love", a group of Rainbow Refugee volunteers committed to sponsor and support a refugee family. Tickets $28 ONLINE
---
QUEEN, PLEASE.
Friday May 10, 2019 Showtime 10:45pm
The Junction, 1138 Davie St.
"QUEEN,PLEASE." a night of Decadent Drag & Saltry Stories!! Joan-E will be joined by special guests every second Friday of the month. Dj Drew will be setting the mood, with doors open at 9:30pm, Showtime 10:45pm & Cover charge $5
---
Spencer's Get Your Art On!
Saturday May 11, 2019 6:30pm–9pm
Best Western Plus Sands, 1755 Davie St.
Join Spencer Chandra Herbert, Comedian David C. Jones and the Reid Jamieson Band at the West End NDP's annual spring fundraiser, Get Your Art On! Don't miss out on one of our most exciting events of the year, featuring comedy, live music, canapes and drinks with friends and neighbours. Early-bird tickets are $100 (until April 27th), Regular tickets are $125 (after April 27th), Doors open at 6:30 for Mixing and Mingling, Show at 7pm ONLINE
---
MISFIT CLOWNFISH
Monday May 13, 2019 Show 12:30AM
The Junction, 1138 Davie St.
Misfits Presents CLOWNFISH, Happening every 2nd Monday of the Month! Hosted by Molly Poppinz & Friends, Music by DJ Del Stamp. Cover $5.00. INDUSTRY DRINK SPECIALS FOR ALL! $3.75 Highballs & $4.75 Domestic Beers!
---
TENTH Annual LOUD Scholarship Awards Gala
Thursday May 16, 2019 6pm–9pm
Studio 700 - CBC Vancouver, 700 Hamilton St.
Once again we are taking over Studio 700 at the CBC Building. Included in your tickets are a welcome drink and tummy warming catering from The Butler Did It. When our Foundation first started in 2009, we granted three LOUD Scholarships of $2,000 and one Little Sister's Bookstore Scholarship of $1,000. In 2018 alone, we awarded $31,000 to deserving emerging leaders. Most recipients and some alumni will be attending. The future is bright! Come connect. We're better together. Tickets $100 ONLINE
---
15th Annual IDAHOT Breakfast, a benefit for QMUNITY
Friday May 17, 2019 6:45AM–9AM
Sheraton Vancouver Wall Centre, 1088 Burrard St.
Support QMUNITY at the 15th annual International Day Against Homophobia, Transphobia, and Biphobia (IDAHOT) breakfast, presented by Vancity and a benefit for QMUNITY. Since 2012, the International Day Against Homophobia, Transphobia, and Biphobia breakfast attracts an enthusiastic crowd of community, business, and political leaders. IDAHOT continues to hold a place of prominence on Vancouver's community calendar. With an official proclamation from the City of Vancouver, movers and shakers from many different organizations, corporations, and sectors celebrate and commit to the life-changing work QMUNITY undertakes. Tickets $125.19 ONLINE
---
Lads and Lashes
Friday May 17, 2019 6:30pm–10:30pm
Imperial Vancouver, 319 Main St.
Lads & Lashes is all about stretching traditional boundaries to explore diversity and demonstrate that sometimes stepping out of our comfort zones can not only be fun, but create a new perspective on life. As the world continues to evolve and society faces increased challenges surrounding Diversity and Inclusion, Lads & Lashes hopes to bring about discussion through an evening of fun and entertainment. Organized by the Q Hall of Fame Canada In support of the Canadian Centre for Diversity and Inclusion, Lads & Lashes is a unique spin on the traditional team challenge events. Tickets from $60 ONLINE
---
CROWN JULES
Friday May 17, 2019 show 10:45pm
The Junction, 1138 Davie St.

Our Monthly fundraiser benefiting the current Reign of the Dogwood Monarchist Society! Come join Emprex 48 Alma Bitches and Emperor 48 Del Stamp and many guests as they fundraise money for their chosen charities. Cover $5.00 Showtime at 10:45 PM
---
MISFITS
Monday May 20, 2019 Door 11pm, Show 12:30am
The Junction, 1138 Davie St.
Misfits is a drag show taking place every third Monday of the month @ The Junction. Hosted by Molly Poppinz & Xana X with a collective of Vancouver drag artists, queens, kings and things With new themes and rotating guest performers each month. Cover $5
---
Art For Life
Thursday May 23, 2019 6pm–10pm
The Permanent, 330 West Pender St.
We're thrilled to announce the remount of the fabulously fantastic Art For Life gala - featuring great Vancouver artists giving of themselves - all in support of the Dr. Peter AIDS Foundation, and Friends for Life Society. Expect to imbibe in imaginative food, inspired cocktails, bid on great art, and dance until late. General Admission tickets - $150 - a donation tax receipt will be issued for $100. ONLINE
---
The 70's Show - Vancouver Mens Chorus
June 7, 8, 9, 12, 13, 14, 15 – 8pm. Jun 15 – 3pm
Performance Works, Granville Island
Jump into your bell bottoms, pop on a pair of platform shoes, and join the Vancouver Men's Chorus on a journey to the '70s. Let us dazzle you with disco hits, serenade you with sensuous R&B tunes, pump you up with classic pop, and more: the "Me Decade" was a diverse and delightful time for music! So feather your hair and groom your epic sideburns, because whether you're gambling on your last chance for romance or seeking relief from your night fever, we will, we will rock you! Tickets: General Admission Tickets (Wed, May 1, 9:30am) ONLINE $45
---
McLaren Sparkles 2019
Wednesday July 31, 2019 7:30pm-midnight
TD Tower Penthouse, 29th Floor - 700 West Georgia St.
The 19th Annual McLaren Sparkles! signature fundraising event is taking place in the TD Tower Penthouse on Wednesday, July 31st, 2019 during the Celebration of Light fireworks extravaganza. Guests mix and mingle while enjoying a sparkling wine welcome, host bar, passed canapés, live & silent auctions, entertainment and the "Sparkle & Shine, Pick Your Wine" Treasure Table, followed by a stunning unrestricted view of the Celebration of Light fireworks competition in English Bay from the TD Tower Penthouse on the 29th floor. McLaren Housing Society of BC is a non-profit organization providing safe, secure, affordable housing and support services to low-income individuals and families living with HIV/AIDS. Tickets $140 ONLINE
---

Regularly scheduled events -> CLICK TO VIEW