Gay Vancouver Event and Nightclub Listings 
** CLICK Posters for more INFO! **
---
69 POSITIONS: THE QUEER CANADIAN AND QUÉBEC ARCHIVE IN FILM AND BEYOND
May 14 – Aug 22 (Tuesday – Saturday, noon–6pm)
Sum Gallery, Suite 425 – 268 Keefer St.

In partnership with VIVO and the Vancouver Queer Film Festival, and located at SUM gallery. The west coast stop of Queer Media Database Canada-Québec Project's touring exhibition series, marking the 50th anniversary of the 1969 Omnibus bill. A naughty, nuanced and nerdy retrospective of queer lives circa 1969 and the partial 'decrim' of sodomy. As the powers-that-be celebrate the 50th Anniversary of the Bill C-150, the Criminal Law Amendment Act, '69 Positions is here to set the record queer.
---
REFRAMED - Painting and Collage by Tiko Kerr
May 25 - Aug 31, 2019
Gordon Smith Gallery of Canadian Art, 2121 Lonsdale Avenue, North Vancouver

Reframed features new work by Tiko Kerr. Throughout his more than 30 year-long career, Kerr has explored the concept of perception through painting. His most recent works continue along this line of inquiry while drawing on images from art history and popular culture to explore the contemporary moment of widespread unrest and trauma. The distinctive wobbly style he developed and honed with his past work has been left behind and in its place is a deft handling of historically expressionist painterly styles, re-contextualized for today's social and political climate. 
---
Kelowna Pride Celebrations
June 15–22, 2019
There are a host of activities, including official Kelowna Pride events and affiliate community partner events, family-friendly fun and 19+ parties, taking place during Pride. We hope the LGBTQ2+ community and allies will join us to celebrate. Kelowna Pride March & Festival is Saturday June 22 11am-4pm. More events info ONLINE
---
The Queer Arts Festival's opening Art Party! 2019
Tuesday June 18, 2019 7pm–10pm
Roundhouse Community Arts & Recreation Centre, 181 Roundhouse Mews

Join us for the Queer Arts Festival's opening Art Party!, where art and conviviality converge at the grand opening of the 2019 Queer Arts Festival rEvolution. Art Party! is the kick off for the incredible exhibitions, performances, and Satellite Academy outreach initiatives that make up the Queer Arts Festival. Our opening night galas are one of Vancouver's best attended visual arts events, making this a party you don't want to miss! RSVP for free. Entry by donation. ASL interpretation will be provided.
---
Queer Arts Festival
June 17 – 28, 2019
Roundhouse Community Arts & Recreation Centre, 181 Roundhouse Mews

The Queer Arts Festival (QAF) is an annual artist-run professional multidisciplinary arts festival at the Roundhouse in Vancouver, BC. Recognized as one of the top 5 festivals of its kind worldwide (Melbourne Herald Sun), QAF produces, presents and exhibits with a curatorial vision favouring challenging, thought-provoking work that pushes boundaries and initiates dialogue. Each year, the festival theme ties together a curated visual art exhibition, performing arts series, workshops, artist talks, panels, and media art screenings. Tickets ONLINE
---
MISFITS
Monday June 17, 2019 Door 11pm, Show 12:30am
The Junction, 1138 Davie St.
Misfits is a drag show taking place every third Monday of the month @ The Junction. Hosted by Molly Poppinz & Xana X with a collective of Vancouver drag artists, queens, kings and things With new themes and rotating guest performers each month. Cover $5
---
A Loving Spoonful's Project Empty Bowl
Thursday June 20, 2019 6:30pm~
the Coast Coal Harbour Hotel, 1180 West Hastings St.

Each guest receives a unique, hand crafted ceramic bowl upon arrival. This is the bowl you will have your meal from at one of our food stations during the event. The event hosts a wonderful (and large!) silent auction, an amazingly curated live auction, a raffle and so much more! Tickets $100 ONLINE
---
CROWN JULES
Friday June 21, 2019 show 10:45pm
The Junction, 1138 Davie St.

Our Monthly fundraiser benefiting the current Reign of the Dogwood Monarchist Society! Come join Emprex 48 Alma Bitches and Emperor 48 Del Stamp and many guests as they fundraise money for their chosen charities. Cover $5.00 Showtime at 10:45 PM
---
D!ck Safari: Amateur Strip
Monday June 24, 2019 Show at 12:30am
The Junction, 1138 Davie St.

Hosted by The king of D!cks: Del Stamp & The Queen of D!cks: LMA Bitches w/ supprt from Rob Feller. Do you want to win some money? Cash prizes available for 1st & 2nd + Give aways from Steamworks. Are you courageous enough to bare it all? Cover $5 after 11pm.
---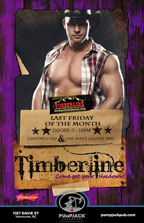 TIMBERLINE
Friday June 28, 2019 7 to 10 pm
Pumpjack Pub, 1167 Davie St.

Gay / Lesbian / queer line dancing, barn dancing and two stepping. Find us on the dance floor by going through the bar to the back and turn right, or head right after going in the door. Last Friday of Each Month! Lessons start at 8pm & no cover.
---
DIVA'S
Friday June 28, 2019 Showtime 10:45pm 
The Junction, 1138 Davie St.

The Junction Presents: DIVA'S with host Sienna Blaze! Special Guests will be joining Sienna on stage!! DJ Drew plays your favorite all night long! This show brings you the best of Vancouver's Drag Scene and you know that you won't be disappointed! Cover $5.00
---
CruiseyT - Canada Day Fireworks Cruise
Monday July 1, 2019  6:30pm–11:30pm
Harbour Cruises Ltd, 501 Denman St.
CruiseyT brings back by popular demand the Canada Day Fireworks Cruise - on July 1. Featuring DJ Del Stamp and performances by the Brat Pack (Jane Smoker, Gia Metric, Kendall Gender & Jem). Boarding at 6:30pm, departing at 7:30 - 11:30pm. Tickets: $30(Early Bird)-$45. ONLINE
---
MISFITS: XANAX & CHILL
Monday July 1, 2019 Show 12:45am
The Junction, 1138 Davie St.
Every 1st Monday of the Month. Hosted by XanaX with special guest. Music By DJ Del Stamp. Industry Priced Drinks: $3.75 Highballs, $4.75 Domestic Beers. Doors at 11 PM, Show at 12:45 AM, Cover $5.00
---
FRISKY GIRL
Friday July 5, 2019 Show 10:45pm
The Junction, 1138 Davie St.
Come join us for the Frisky Girl Show hosted by Sienna Blaze with DJ Miss M on the decks! Some of Vancouver's hottest drag talents comes and joins Sienna Blaze for a frisky show! Doors at 9:30pm, Cover $5.00
---
Identity Music Festival
Saturday July 6, 2019 noon–11pm
Red Gate Arts Society, 1965 Main St.
Identity is an all ages, LGBTQ safe space, music festival which focuses on bringing quality music to fans of varying ages. Music ranging from rock, punk metal to alternative to engage the underage communities around Metro Vancouver and provide a safe space for them to express themselves through music.
---
Night Shift: Victoria Pride
Saturday July 6, 2019 8pm -11:59pm
Royal BC Museum, 675 Belleville St, Victoria
Show your colours at Night Shift: Pride, our newest 19+ event, and the best Pride Party on Vancouver Island! Madame Gouda Gabor and her bordello babes, Vivian Vanderpuss and Lola Meneta, will shake up the quiet streets of Old Town with raucous and raunchy performances, while Drag Kings and Queens Eddi Liscious, Persi Flede and Henrietta Dubét strut their stuff throughout the galleries. Tickets $42 ONLINE
---
Victoria Pride Saturday Party
Saturday Jul 6, 2019 SHOWTIME: 11:30 PM
Paparazzi Nightclub, 642 Johnson St, Victoria

The talented and gorgeous KENDALL GENDR and GIA METIC! We are thrilled to have Kendall and Gia of the BRATPACK with us to celebrate VICTORIA PRIDE with you at Paparazzi Nightclub! Join us for a jaw dropping performances and after get on the dance floor and dance with the sounds of resident DJ ronnyb and the best dance beats all night! COVER: $12
---
THE 26TH ANNUAL VICTORIA PRIDE PARADE
Sunday July 7 2019 11AM-12:30PM
Downtown Victoria, Pandora & Government to James Bay (MacDonald Park), Victoria
THE 25TH ANNUAL VICTORIA PRIDE FESTIVAL
Sunday July 7, 2019 noon-6PM
MacDonald Park, 212 Niagara St, Victoria
---
SODA POP - A Sparkling T-Dance Launch!
Sunday July 7, 2019 3pm–7pm (every first and third Sunday of the month)
1181, 1181 Davie St.
DJ GingerBear and Mina Mercury are so proud to be part of the launch of a new Sunday tradition at 1181 with the return of the Tea Dance with a twist, ours is SPARKLING! Starting at 3pm DJ GingerBear's sparkling SODA brings back classic grooves, retro beats and some new house that's sweet. Around 6pm Mina Mercury and guests put the POP into the night with a Pop-up video drag show filled with fun, facts and another "f" word. No Cover
---
SHEQUEL
Sunday July 7, 2019 Show 1:30am
The Junction, 1138 Davie St.
Every 1st Sunday of the Month hosted by Alma Bitches! With DJ T playing all the hottest hits! Doors at Midnight, Cover $5.00, Show at 1:30 AM
---
MISFIT CLOWNFISH
Monday July 8, 2019 Show 12:30AM
The Junction, 1138 Davie St.
Misfits Presents CLOWNFISH, Happening every 2nd Monday of the Month! Hosted by Molly Poppinz & Friends, Music by DJ Del Stamp. Cover $5.00. INDUSTRY DRINK SPECIALS FOR ALL! $3.75 Highballs & $4.75 Domestic Beers!
---
Matthew Presidente Band - 'With the Boys' album release show
Wednesday July 10, 2019 9pm–11:55pm
The Backstage Lounge, 1585 Johnston St. Granville Island
This summer, renowned Vancouver inger/songwriter Matthew Presidente will release a new collection of songs titled 'With the Boys'. Recorded live off-the-floor at East Vancouver's SunaStudios, Presidente and his 4-piece band deliver the energy and personality of their live howsdeveloped over the past few years while gigging for 2017's 'Every Single Sin'. Tickets $10 in advance ONLINE
---
QUEEN, PLEASE.
Friday July 12, 2019 Showtime 10:45pm
The Junction, 1138 Davie St.
"QUEEN,PLEASE." a night of Decadent Drag & Saltry Stories!! Joan-E will be joined by special guests every second Friday of the month. Dj Drew will be setting the mood, with doors open at 9:30pm, Showtime 10:45pm & Cover charge $5
---
Pride Cocktail Kickoff 2019 - Dr. Peter AIDS Foundation
Thursday July 18, 2019 6-9pm
The Rooftop at 745 Thurlow St.
Join us to kick off Pride season with a dash of elegance, a splash of vermouth, and breathtaking views in a panoramic setting! Your generous support helps make our new men's program possible, along with meals, counselling, art therapy and more for our 350+ Day Health clients, plus another 50 clients living in 24-hour specialized nursing care residence. Tickets: $150 ONLINE
---
McLaren Sparkles 2019
Wednesday July 31, 2019 7:30pm-midnight
TD Tower Penthouse, 29th Floor - 700 West Georgia St.
The 19th Annual McLaren Sparkles! signature fundraising event is taking place in the TD Tower Penthouse on Wednesday, July 31st, 2019 during the Celebration of Light fireworks extravaganza. Guests mix and mingle while enjoying a sparkling wine welcome, host bar, passed canapés, live & silent auctions, entertainment and the "Sparkle & Shine, Pick Your Wine" Treasure Table, followed by a stunning unrestricted view of the Celebration of Light fireworks competition in English Bay from the TD Tower Penthouse on the 29th floor. McLaren Housing Society of BC is a non-profit organization providing safe, secure, affordable housing and support services to low-income individuals and families living with HIV/AIDS. Tickets $140 ONLINE
---
Pride at Parq 2019
Friday Aug 2 2019 7pm-late
The Park, Level 6, Parq Vancouver 39 Smithe St.
Experience Pride's most vibrant party at downtown Vancouver's premiere entertainment destination. Parq Vancouver will once again let its rainbow flag fly with a show-stopping celebration hosted by a quartet of fabulous guests from RuPaul's Drag Race: Kim Chi, Asia, Kameron and Season 10's prestigious winner, Aquaria. Festivities will be held at Parq's 30,000-square-foot outdoor park, a lush green retreat turned dance floor that overlooks the striking cityscape. A first-of-its-kind VIP experience will be offered this year, providing special guests private access to exclusive offers including the opportunity to mingle with the feisty foursome. Tickets: $80-$200 ONLINE
---
CruiseyT - Pride Cruise 2019
Pride Kick Off Cruise
Friday Aug 2, 2019 7pm–10pm
DJ Nick Bertossi, Entertainer: Raye Sunshine & Gia Metric. Tickets: Early Bird $55, Tier 1 $65, Final Tier $75 ONLINE
Pride Go Go Cruise
Sunday Aug 4, 2019 5pm–9pm
DJ RonnyB, Entertainment by: TBA. Tickets: Early Bird $55, Tier 1 $65, Final Tier $75 ONLINE
Pride Recovery Cruise
Monday Aug 5, 2019 4pm–8pm
DJs: Del Stamp & Dom Top, Entertainment by: Jaylene Tyme & Raye Sunshine. Tickets: Early Bird $55, Tier 1 $65, Final Tier $75 ONLINE
---
LOVE AND FREEDOM PRIDE FESTIVAL 2019 (4 Events)
Aug 2-5, 2019
Vancouver BC, Canada
Celebrate Vancouver Pride weekend at LOVE AND FREEDOM PRIDE FESTIVAL, features a staggering showcase of top international talent with local favourites at four incredible dance parties during the hottest weekend of summer - PRIDE! The 2019 festival kicks off with the THE DIRTY PARTY on Friday night ($45-$65), introduces FREEDOM (The Party) a new Saturday extravaganza ($50-$70), along with returning favourites GLITTER: The Main Event ($60-$80), and RE-UNITED a very special edition of our legendary afterhours closing party!($65-$85) Tickets ONLINE
---
HEATWAVE 2019 • Vancouver's only PRIDE pool party ~SOLD OUT~
Saturday Aug 3, 2019 12pm-6pm
The Westin Grand, 433 Robson St.
With DJ Nick Bertossi & DJ DomTop, performances by Tiffany Ann Co & Bibi Souphresh • Gia Metric and introducing Mila Skyy (Seattle) featuring Garcon Gogo's and Giveaways. Tickets $50 - $70 ONLINE ~SOLD OUT~
---
Studio54 Vancouver Pride 2019
Sunday Aug 4, 2019, 9pm–3am
Twelve West Night Club, 1219 Granville St.
Come to a fresh and new Pride Party at Twelve West with Studio 54 Icons, guests and performers. Hot International GoGo boys, DJ Saul Ruiz from Mexico, opening with Local DJ's G-Luve and DJ IM. Venue completely transformed into a modern version of Studio 54. Think Studio 54 reinvented. Grab your balls boys, we are here to dance. Fun lyrical house,funky disco, NO CURCUIT! First hundred guests get a free cocktail - a "Chambles" other free give-aways all night long and tonnes of surprises! Tickets: $65 ONLINE
---

Regularly scheduled events -> CLICK TO VIEW