Gay Vancouver Event and Nightclub Listings 
** CLICK Posters for more INFO! **
---
8TH ANNIVERSARY SHOW ABSOLUT'LY DRAGULOUS
Saturday Feb 23, 2019 Show 10pm
The Junction, 1138 Davie St.

It's the 8th Anniversary for Absolut'ly Dragulous and this special show is going to be JAMMED with tons of suprises! Join Carlotta and her guests every Saturday night for a spectacular show filled with drag, live numbers, contests and much more, all hosted by one of Vancouver's top drag personas, Carlotta Gurl! Show starts at 10 PM. Cover $7
---
Paparazzi Nightclub 12th Anniversary Celebration
Saturday Feb 23, 2019 Doors 10pm, Show 11:30pm
Paparazzi Nightclub, 642 Johnson St. VICTORIA

Paparazzi Nightclub is proud to be celebrating 12 years as Victoria's flagship community bar. We invite you to join us for this special event where everyone is welcome. Performances By: Vivian Vanderpus, Persi Flage, Hentrietta Dubet. Cover: $10
---
OSCARS VIEWING PARTY
Sunday Feb 24, 2019 5:30pm
The Junction, 1138 Davie St.

It's the 91st Academy Awards and just like always we got our infamous viewing party! This year's host is Vancouver's Glamour Queen Jaylene Tyme! Come mark your predictions and the one who gets the closest prediction to the winners can walk away with a cash prize!
---
DRAG ME TO HELL
Sunday Feb 24, 2019 doors 11pm, show time midnight
The Junction, 1138 Davie St.

With Dj T and Host Miss Understood! $5 cover charge and (Different theme each month)
---
QP Presents: Those Guys (Improv)
Monday Feb 25, 2019 8PM–9:30PM
1181, 1181 Davie St.

QueerProv Presents: Those Guys! One of Vancouver's funniest duo's - these two will blow your mind at the great mysteries and possibilities of duo improv. Get your ass ready! Cast: Bill Taylor, Robert MacKie, Cassidy Anhorn. Tech: Brendan Kelly. No cover. Donations accepted after the show.
---
D!ck Safari: Amateur Strip
Monday Feb 25, 2019 Show at 12:30am
The Junction, 1138 Davie St.

Hosted by The king of D!icks: Del Stamp & The Queen of D!cks: LMA Bitches w/ supprt from Rob Feller. Do you want to win some money? Cash prizes available for 1st & 2nd + Give aways from Steamworks. Are you courageous enough to bare it all? Cover $5 after 11pm.
---
Bingo For Life (New Location)
Wednesday Feb 27, 2019 7PM
Mary's on Davie, 1202 Davie St.
A pillar of our community for decades, Bingo For life is a weekly drag bingo fundraiser which benefits Vancouver Friends For Life Society programming. Now with a new home at Mary's on Davie - Bingo For Life is excited to offer its event to ALL AGES, with food and of course - your favourite Davie Party Gurl - Carlotta Gurl! Entry by donation - minimum suggested donation $10. Every Wednesday!
---
Queery! The QueerProv Game Show
Wednesday Feb 27, 2019 9:30pm–11pm
The Junction, 1138 Davie St.

We've all got questions but how many of them are "Queeries"? Presenting Queery! The QueerProv Game Show. Get all your favourite game show elements infused with a queer improvised twist. What does that mean? Queer trivia, whacky hosts, PRIZES, comedy, and best of all, YOU the audience have a chance to play and WIN. It's like pub trivia had a one night stand with a TV game show!
---
WERK IT (NEW)
Wednesday Feb 27, 2019 Door 10:30PM, Show at Midnight
The Junction, 1138 Davie St.

Its Hump Day and who else to have the mid week hump style drag show but none other than Alma Bitches and Carlotta Gurl! Music by DJ Nick Bertossi! Cover $5 from 10:30pm. Every Wednesday!
---
Vancouver Island Pride Winter
Feb 28 - Mar 3, 2019
Mt. Washington, Comox Valley, Vancouver Island

The rainbow flag rides high against an alpine vista as Mount Washington swooshes in its first annual pride and ski getaway. Join us at Mount Washington in the heart of the Comox Valley on Vancouver Island. Home to one of the most spectacular coastal alpine settings in North America. The shimmering Pacific Ocean as a backdrop on one side and the stunningly scenic Strathcona Park bordering the other.
---
FRISKY GIRL SHOW
Friday March 1, 2019 Showtime 10:45pm 
The Junction, 1138 Davie St.

It's time to get FRISKY with The Frisky Girl Show with Sienna Blaze and DJ MISS M! Featuring some amazing talent from our very own city, this show is super HOT! Come check out our show and then dance the night away with one of the TOP Lesbian DJ's in North America! Cover $5
---
Devours (Vancouver, BC) signs with Artoffact Records!
Friday March 8, 2019

Vancouver-based Jeff Cancade, AKA Devours, is the sound of a queer DIY punk channeling love for The Presets, Fischerspooner, and Britney Spears, mixed with vintage Nintendo themes into fiery, confessional bedroom electro-pop anthems. Devours' sophomore album, Iconoclast, will be released worldwide on Toronto-based Artoffact Records on March 8th.
---
QUEEN, PLEASE.
Friday March 8, 2019 Showtime 10:45pm
The Junction, 1138 Davie St.
"QUEEN,PLEASE." a night of Decadent Drag & Saltry Stories!! Joan-E will be joined by special guests every second Friday of the month. Dj Drew will be setting the mood, with doors open at 9:30pm, Showtime 10:45pm & Cover charge $5
---
Queens Care 11
Saturday March 9, 2019 7PM–10PM
The Junction, 1138 Davie St.
For over a decade, Vancouver's drag queens have donated their time and talents for Queens Care, a show created by MC, Joan-E and Carlotta Gurl, to raise funds for community-building organizations that support the LGBTQ+ community in the Lower Mainland. Thanks to their generosity, over $25,000 has been donated to organizations including A Loving Spoonful, Out in Schools, The Vancouver Friends for Life Society, and the SPCA. The event is held in memory of Diana Rose, a treasured Vancouver entertainer who lost her life to cancer, and DJ Jules – who for years provided music for this event, who passed after a courageous battle with liver disease. Tickets: $20 ONLINE
---
KINK FETISH NIGHTS - Grand Opening at Privé Nightclub
Saturday March 9, 2019 9PM–3AM
Privé Nightclub, Plaza of Nations, 750 Pacific Boulevard

KINK welcomes you to an evening of debauchery, performance, & seduction! This is a celebration of art and alternative sexuality, where you can express your darkest desires and enjoy an evening with like-minded kinksters. The night features top local EBM, Industrial and deep house DJs, live performances, and of course the KINKY house of Gogo's all night. Our safe and consensual dungeon play spaces and equipment is to be used by all attendees at any level and is located front and center of the venue. Whether you're a curious first-timer or a seasoned veteran, we seek to create a welcoming environment for all experience levels and expressions. Tickets $15 until Feb 9, $18 after. ONLINE
---
CROWN JULES
Friday March 15, 2019 Showtime 10:45pm
The Junction, 1138 Davie St.
Crown Jules is a monthly charity drag show benefiting the DMS Vancouver. This show is hosted every month by the Upper House of the 47th Reign, The house of the Milky Way. In honour of the original 'Faux Girls' and it's creator, DJ Jules has created a legacy that we want to carry on through the evolving world of drag that Vancouver has created. Cover $5.00
---
Singing Can Be a Drag 2019
Saturday March 16, 2019 4:30pm / 9pm
Columbia Theatre, 530 Columbia St., New West
Saturday March 23, 2019 4:30pm / 9:00pm
Venue: Red Gate Revue Stage, Granville Island
A respectable drag queen never tells her real age, but the Vancouver Men's Chorus – now celebrating its 38th season – is proud to present its twelfth annual fem-spectacular fundraiser – Singing Can Be A Drag! Proceeds help support the VMC in its LGBT community outreach and mainstage concert programming. Thank you!
Patron ticket: $60 for the 4:30pm, $65 each for the 9pm performances ONLINE General Ticket: $30 for the 4:30pm, $35 for the 9pm performances ONLINE 
---
Coronation 48 Vancouver
Saturday March 16, 2019 5pm-10pm
Eastside Studios, 550 Malkin Avenue
The 47th elected Monarch and Regent Emprex of Vancouver BC, the Mother Court of Canada have dedicated a year to the court system. So it is now the bittersweet time to say goodbye to a year that brought change, community involvement and a step into modernity. Please come to celebrate in with us in Vancouver BC this March 16th. Tickets $35 for general admission for purchases made between now and February 1st! $45 after. ONLINE
---
MISFITS
Monday March 18, 2019 Door 11pm, Show 12:30am
The Junction, 1138 Davie St.
Misfits is a drag show taking place every third Monday of the month @ The Junction. Hosted by Molly Poppinz & Xana X with a collective of Vancouver drag artists, queens, kings and things With new themes and rotating guest performers each month. Cover $5
---
DIVA'S
Friday March 22, 2019 Showtime 10:45pm 
The Junction, 1138 Davie St.

The Junction Presents: DIVA'S with host Sienna Blaze! Special Guests will be joining Sienna on stage!! DJ Drew plays your favorite all night long! This show brings you the best of Vancouver's Drag Scene and you know that you won't be disappointed! Cover $5.00
---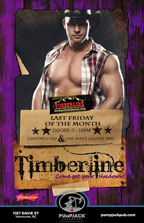 TIMBERLINE
Friday March 29, 2019 7 to 10 pm
Pumpjack Pub, 1167 Davie St.

Gay / Lesbian / queer line dancing, barn dancing and two stepping. Find us on the dance floor by going through the bar to the back and turn right, or head right after going in the door. Last Friday of Each Month! Lessons start at 8pm & no cover.
---
Vancouver Men in Leather Events
Hump Day Social - Every Wednesday at The Junction 6PM-8PM, then PumpJack 8pm
VML Leather Social - 2nd Saturday at The Pumpjack 8PM
Gear Up! Play Party - 3rd Saturday at Steamworks
---
Rubbout 2019 - Illuminate
April 5-7, 2019
Join us for Rubbout, the longest running gay rubber event in North America! Explore the new event format centered around a host hotel. Experience 3 days of events filled with kinky fun. Engage in learning, socializing, play, and more! Illuminate your darkest desires at Rubbout 2019. Don't forget to book into the host hotel! ONLINE
---

Regularly scheduled events -> CLICK TO VIEW