Seattle, U.S.A.
INTERNATIONAL TRAVEL FOR FULLY VACCINATED PEOPLE IS EVOLVING. AS OF AUGUST 9, 2021, FULLY VACCNINATED AMERICAN CITIZENS AND PERMANENT RESIDENTS WHO MEET REQUIREMENTS ARE ALLOWED ENTRY TO CANADA. TRAVEL TO THE USA BY CANADIANS AT LAND BORDER CROSSINGS HAS NOT YET BEEN APPROVED AT THIS TIME. CHECK THE OFFICIAL GOVERNMENT WEBSITE FOR LATEST INFORMATION: GOVERNMENT OF CANADA
The striking, dramatic skyline of downtown Seattle frames the shoreline of Elliot Bay in the beautiful Puget Sound region of Washington State. This bustling urban metropolis of over 2.7 million people has a relaxed, west coast, LGBTQ+ welcoming attitude, and is home to a thriving, visible LGBTQ+ community.
Estimated to have the second largest LGBTQ+ population per capita in the USA, the focal center of LGBTQ+ life in Seattle is known as the Capitol Hill district, overlooking the downtown core. Capitol Hill has a charming residential area, and is home to an eclectic mix of trendy shops, restaurants, bars, pubs and dance clubs.
Celebrating 44 Years of Pride, the theme for the Seattle Pride Parade in 2018 is "Pride Beyond Borders". Official Seattle Out and Proud events kick off with the Volunteer Park Pride Festival on June 9, culminating with the Seattle Pride Parade on June 24. Route is from the corner of Union St. and 4th, along 4th Avenue to the Seattle Center.
Seattle Pridefest 2018, "rain to rainbows", "The largest Free Pride Festival in America" includes PrideFest Capital Hill on Saturday, June 23 and PrideFest Seattle Center on Sunday, June 24.
Home base for the Gayvan team while visiting Seattle this year will be the Silver Cloud Hotel – Seattle Broadway,  conveniently located in the Capitol Hill district, with easy walking access to many of the city's most popular bars, nightclubs and eateries.
Seattle Virtual Pride 2021 
June 26 -27, 2021, from 11am - 5pm Online
Celebrating 45 Years of Pride. Seattle Virtual Pride is the opportunity to celebrate new wins for equality, and get encouragement for the work yet to come. Check out all the details: Seattle Virtual Pride 2021

Seattle Pride Photos:  CLICK HERE    
---
 Bars and Pubs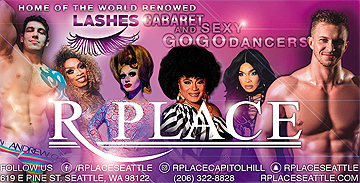 R Place - currently closed, but check back for new location information
Events and shows all through the week, including Thirsty Thursdays, Transcendance, Therapy, Homo Hop, Karaoke Nights, Seattle's all-star cast of Lashes and the hottest Go Go Dancers! 619 East Pine Street, Seattle 1.206.322.8828 www.rplaceseattle.com  , www.facebook.com/rplaceseattle   
---
 Visitor Centers
Seattle Metronatural
Seattle's Convention and Visitors Bureau offers Visitor Centers and Concierge Services, as well as a comprehensive website with a dedicated LGBT Travel section. 206.461.5840 www.visitseattle.org/lgbt 
---
Note: As of June 1, 2009, all visitors entering the U.S.A., by land or sea, are required to present passports or approved identification, such as a NEXUS, FAST card, or enhanced driver's licenses.
SEATTLE MAP
1. R PLace 
2. Seattle Center 
3. Capitol Hill Pride Festival March & Rally