Gay Vancouver Event and Nightclub Listings 
** CLICK Posters for more INFO! **
---
Hot Brown Honey
March 15-30, 2019
York Theatre, 639 Commercial Drive, Vancouver

For the Game Changers, Myth Slayers, Poets, Movers, Music Makers, Ground Breakers, Truth Sayers, Shake em up Women, Queens, Queers and Risk Takers. Hot Brown Honey returns to turn up the heat, deliver lashings of sass and a hot pinch of empowerment! Packing a punch of hip hop politics, the Honeys will make you laugh, cry, clap and shake what your mama gave you. This stellar posse of phenomenal women make noise as they defiantly smash stereotypes and remix the system. Tickets: $10-$69 ONLINE
---
"Awesome" - John Ferrie exhibition of new paintings
March 22 - 28, 2019
Friday March 22, 2019 6-9 pm (opening reception)
Main Space Gallery, 350 East 2nd Avenue

It is that time of year again,spring, and time for an exhibition of new paintings. I have titled this collection "Awesome #1 Collection of Paintings". There are over 30 pieces in this new series and everything is up on line and available at www.johnferrie.com. The exhibition runs through to the 28th of March and the gallery is available for private viewings by appointment. Please contact me directly at 604-376-7824 or This email address is being protected from spambots. You need JavaScript enabled to view it. .
---
Singing Can Be a Drag 2019
Saturday March 23, 2019 4:30pm / 9:00pm
Venue: Red Gate Revue Stage, Granville Island
A respectable drag queen never tells her real age, but the Vancouver Men's Chorus – now celebrating its 38th season – is proud to present its twelfth annual fem-spectacular fundraiser – Singing Can Be A Drag! Proceeds help support the VMC in its LGBT community outreach and mainstage concert programming. Thank you!
Patron ticket: $60 for the 4:30pm, $65 each for the 9pm performances ONLINE General Ticket: $30 for the 4:30pm, $35 for the 9pm performances ONLINE 
---
Score 20: Vancouver's Only Gay Skating Party
Saturday March 23, 2019 8pm–1am
Ice Rink & Community Centre, 870 Denman St.

Strap on your skates, slip into your dancing shoes and join The Cutting Edges Gay Hockey Club as we celebrate our 20th Anniversary Score Party. Great music, a fun atmosphere, a bunch of hockey players and a friendly crowd makes this one of the most anticipated parties of the year. You can bring your own skates, or borrow our free rentals. If you don't want to skate, join the crowd on the dance floor, or socialize in the lobby bar. $25-Regular Price ONLINE, $30-at the Door
---
BYE Felicia She's Baaack! MiSS ToTo (MIA)
Saturday March 23, 2019 10:30pm–3am
The Biltmore Cabaret, 2755 Prince Edward St, Vancouver

INTERNATIONAL GuEST STAR: MISS TOTO is the original bodybuilding Barbie. With her unique aesthetic and performability, this drag queen has coined herself as the newest "Meme Queen" with her viral performances of Mr. Krabs, Bird Box, and Big Mouth's Hormone Monstress. Seeing MIss Toto perform is an experience that you will definitely not want to miss! RESiDENT QUEENS – Alma B Itches, Berlin, Ilona Verly, Coco Klein, PonyBoy (ManUp), Karmella Barr, Madam Lola, Continental Breakfast & PM, Rich Elle. Adv Tix $9-$11 ONLINE
---
DRAG ME TO HELL
Sunday March 24, 2019 doors 11pm, show time midnight
The Junction, 1138 Davie St.

With Dj T and Host Miss Understood! $5 cover charge and (Different theme each month)
---
D!ck Safari: Amateur Strip
Monday March 25, 2019 Show at 12:30am
The Junction, 1138 Davie St.

Hosted by The king of D!cks: Del Stamp & The Queen of D!cks: LMA Bitches w/ supprt from Rob Feller. Do you want to win some money? Cash prizes available for 1st & 2nd + Give aways from Steamworks. Are you courageous enough to bare it all? Cover $5 after 11pm.
---
Double Trouble w/ Berlin and Gluttony
Tuesday Mar 26, 2019 9pm–12am, Show 10pm
1181, 1181 Davie St.

Double Trouble is a show that aims to create a sense of community in a relaxed setting, with an emphasis on bringing fun back to drag. Longtime VAL Angels, Berlin and Gluttony (Jesse Harink) make their debut how. Imagine sex and funny, Dorothy and Blanche, Cher and Tai or Cady and Regina. Each Tuesday night, they come together to create a safe, inviting place that feels like you're just at home with your best Judy's. $4 Happy Hour Specials from 10PM-11PM,. NO COVER
---
Masquerade Closing Reception / Drag Show / Catalogue Release
Thursday March 28, 2019 7:30pm–10pm
Hatch Art Gallery, 6133 University Boulevard (UBC), Vancouver

Please join the Hatch Gallery on Thursday March 28 from 730-10pm for the closing reception of Masquerade: Exploring Fashioned Resistance. The reception includes the release of the exhibition catalogue, featuring essays, artists profiles, and documentation of programming. Drag Performaces (Showtime, 815pm) A highlight of the evening will be drag performances from performers who are all featured in the exhibition, either from photographic documents and collaborations.
---
GIANT LITTLE ONES
Starts Friday, March 29th 2019
Cineplex International Village Cinemas, 88 West Pender St.

Giant Little Ones is about many things: sexual fluidity, love, identity, friendship, family. While it has a strong LGBTQ aspect to it, it is not a "coming out" film. Rather, it is about being true to oneself and remaining open to the possibilities of love and desire. Ultimately, it is a testament to personal freedom. The title, Giant Little Ones, refers to how we can be made to feel little when who we know ourselves to be is dismissed by those around us — but when we stay true to ourselves we discover that we are giant. The critically acclaimed Giant Little Ones is an empowering and authentic coming-of-age story about friendship, self-discovery and the power of love without labels. Tickets: ONLINE
---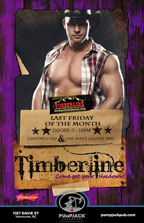 TIMBERLINE
Friday March 29, 2019 7 to 10 pm
Pumpjack Pub, 1167 Davie St.

Gay / Lesbian / queer line dancing, barn dancing and two stepping. Find us on the dance floor by going through the bar to the back and turn right, or head right after going in the door. Last Friday of Each Month! Lessons start at 8pm & no cover.
---
CIRQUE DU SO GAY
Friday March 29, 2019 Doors 9:30PM, Show 10:45PM
The Junction, 1138 Davie St.

Cirque Du SO GAY features the muscle flipping queen herself Nadya Business with special guests and circus performers! Cover $7
---
Man Up Lucky 11 Anniversary Show!
Saturday March 30, 2019 8pm–2am, Show 11pm and 12am
456 Prior St, Vancouver

Drag in this city has pushed back against the forces that have tried to contain us, perhaps just jealous of our boogie. We are here today thanks to the long-term drag dedication from our Man Up family, the fierce loyalty and support from our community, and yes, a bunch of lucky ass breaks -- like being given our first chance at Lick in '08, to being welcomed with open arms by the Cobalt in '11, to the miraculous opportunity presented to us with the inception of Eastside Studios in '18. Tickets $18.89 ONLINE
---
Matthew Presidente Band w/ Major Fantasy
Thursday April 4, 2019 8PM–11PM
The Roxy Cabaret, 932 Granville St.

Roxy Live Presents Matthew Presidente w/ Major Fantasy
Doors 8PM, Tickets - $10 adv/$14 at doors. 19+ ONLINE
---
FRISKY GIRL SHOW
Friday April 5, 2019 Showtime 10:45pm 
The Junction, 1138 Davie St.

It's time to get FRISKY with The Frisky Girl Show with Sienna Blaze and DJ MISS M! Featuring some amazing talent from our very own city, this show is super HOT! Come check out our show and then dance the night away with one of the TOP Lesbian DJ's in North America! Cover $5
---
Rubbout 2019 - Illuminate
April 5-7, 2019
Join us for Rubbout, the longest running gay rubber event in North America! Explore the new event format centered around a host hotel. Experience 3 days of events filled with kinky fun. Engage in learning, socializing, play, and more! Illuminate your darkest desires at Rubbout 2019. Weekend Pass is $120. Don't forget to book into the host hotel! ONLINE
---
2019 Red Ribbon Breakfast
Wednesday April 10, 2019 7am–8:30am
Best Western Plus Chateau Granville Hotel & Suites & Conference Centre, 1100 Granville St.
The Red Ribbon Breakfast is an hour long networking event for busy professionals. Please join us for a complimentary breakfast and a short program about the important work that Positive Living BC does in the community. This breakfast is held annually to help Positive Living BC promote its programs and services while developing important relationships with community stakeholders. Please note that while this is a free event, there will be a fundraising pitch as part of the breakfast program. Donations of any size are appreciated, but no one who attends is under any obligation to give. To RSVP: email Jason Hjalmarson, Director of Fund Development, at This email address is being protected from spambots. You need JavaScript enabled to view it. or call 604-893-2282
---
QUEEN, PLEASE.
Friday April 12, 2019 Showtime 10:45pm
The Junction, 1138 Davie St.
"QUEEN,PLEASE." a night of Decadent Drag & Saltry Stories!! Joan-E will be joined by special guests every second Friday of the month. Dj Drew will be setting the mood, with doors open at 9:30pm, Showtime 10:45pm & Cover charge $5
---
MISFITS
Monday April 15, 2019 Door 11pm, Show 12:30am
The Junction, 1138 Davie St.
Misfits is a drag show taking place every third Monday of the month @ The Junction. Hosted by Molly Poppinz & Xana X with a collective of Vancouver drag artists, queens, kings and things With new themes and rotating guest performers each month. Cover $5
---
DIVA'S
Friday April 26, 2019 Showtime 10:45pm 
The Junction, 1138 Davie St.

The Junction Presents: DIVA'S with host Sienna Blaze! Special Guests will be joining Sienna on stage!! DJ Drew plays your favorite all night long! This show brings you the best of Vancouver's Drag Scene and you know that you won't be disappointed! Cover $5.00
---
Art For Life
Thursday May 23, 2019 6pm–10pm
The Permanent, 330 West Pender St.
We're thrilled to announce the remount of the fabulously fantastic Art For Life gala - featuring great Vancouver artists giving of themselves - all in support of the Dr. Peter AIDS Foundation, and Friends for Life Society. Expect to imbibe in imaginative food, inspired cocktails, bid on great art, and dance until late. General Admission tickets - $150 - a donation tax receipt will be issued for $100. ONLINE
---
Vancouver Men in Leather Events
Hump Day Social - Every Wednesday at The Junction 6PM-8PM, then PumpJack 8pm
VML Leather Social - 2nd Saturday at The Pumpjack 8PM
Gear Up! Play Party - 3rd Saturday at Steamworks
---

Regularly scheduled events -> CLICK TO VIEW